Since our childhood, most of us are looking for alternative breakfast tastes. The point we pay attention to while searching is that it is both healthy and delicious. For this reason, cereals meet this request. Also, Cheerios are breakfast cereals made from grains, which are eaten eagerly by everyone, especially children. Cheerios, which came onto market in the USA in 1941, continues to maintain its popularity and place on our table today. The company sold its plain variety for a long time, then the company produced the Cinnamon Hazelnut and the Honey Hazelnut flavors in turn. In addition to this, Honey Nut Cheerios as well as becoming a favorite among other flavors, become the number 1 cereal in America each year. So, is the Honey Nut Cheerios cornflakes healthy as well as being delicious?
---
---
There are at least 23 Cheerios products in total. Among them, the 'Original' flavor is the healthiest. But unfortunately, not all Cheerios products are healthy at the same rate because the company added additional sugars to products other than the original variety. This, in turn, makes these products more unhealthy. For example,1 cup, approximately 35 grams, has 12 grams of sugar in Honey Nut Cheerios. This means that there is 12 times more sugar than classic flavor. In this article, I wrote about whether Honey Nut Cheerios are healthy or not, their nutritional values, content, differences with the original Cheerios and, positive and negative aspects of Cheerios.
Some Varieties Of Cheerios
There are at least 23 types of Cheerios nowadays. We can list them as follows:
Original Cheerios
Blueberry Cheerios
Maple Cheerios
Peach Cheerios
Honey Nut Cheerios
Honey Nut Medley Crunch Cheerios
Multi-Grain Cheerios
Apple Cinnamon Cheerios
Chocolate Cheerios
Fruity Cheerios
Frosted Cheerios
Frosted Vanilla Cheerios
Banana Nut Cheerios
Cinnamon Nut Cheerios
Cinnamon Burst Cheerios
Cheerios + Old Grains
Cheerios Protein Cinnamon Almonds
Cheerios Protein Oats and Honey
Chocolate Peanut Butter Cheerios
Honey Nut Cheerios Mixed Crunch
Pumpkin Spice Cheerios
Dulce de Leche Cheerios
Very Berry Cheerios.
---
---
Which Is Healthier Cheerios Or Honey Nut Cheerios?
Cheerios varieties do not threaten our health if we pay attention to eat a small amount of them due to Cheerios contain vitamins and minerals. But, on the other hand, varieties such as Honey Nut Cheerios are unhealthier because they contain added sugar and extra ingredients. So if you're thinking about consuming cheerios regularly, it's best to turn to less-processed options. In this case, choosing the original Cheerios would be the right decision. In this way, you keep your sugar intake to a minimum. According to the Cheerios website, vitamins and minerals found in Honey Nut Cheerios are:
Calcium Carbonate, Zinc and, Iron (mineral nutrients), Vitamin C (sodium ascorbate), A B Vitamin (niacinamide), Vitamin B6 (pyridoxine hydrochloride), Vitamin B2 (riboflavin), Vitamin B1 (thiamin mononitrate), Vitamin A (palmitate), A B Vitamin (folic acid), Vitamin B12, Vitamin D3. Vitamins and minerals found in Cheerios: Calcium Carbonate, Iron and Zinc (mineral nutrients), Vitamin C (sodium ascorbate), A B Vitamin (niacinamide), Vitamin B6 (pyridoxine hydrochloride), Vitamin A (palmitate), Vitamin B1 (thiamin mononitrate), A B Vitamin (folic acid), Vitamin B12, Vitamin D3. However, Cheerios are made from whole grain oats, which allows us to get more nutrients than refined grains. Moreover, Cheerios can help lower cholesterol and reduce your risk of heart disease due to Cheerios are rich in fiber. As you can see, Cheerios have fiber and vitamin D. These are vitamins that people can't get enough of. For example, 1 cup of plain Cheerios without milk is 100 calories which means that low calories. In addition, a person who eats 1 cup of plain cheerios without milk gets:
20 grams of carbohydrates,
2 grams of oil,
1 gram of sugar,
3 grams of fiber,
3 grams of protein,
10% of the daily value of calcium,
10% of the daily value of Vitamin A,
10% of the daily value of Vitamin C,
25% of the daily value of vitamin B12,
45% of the daily value of iron,
10% of the daily value of Vitamin D,
25% of the daily value of zinc,
However, it should be noted that these nutrients are added during the process, rather than occurring naturally. So are these nourishments enough?
---
---
Even if Cheerios contain nutritious foods, in some ways it is insufficient. For example, cheerios contain a low amount of protein. Cheerios have 5 grams of protein per serving, and Honey Nut Cheerios also has 3 grams of protein amount per serving. The amount we should normally take daily is at least 0.8 grams per kilogram of a person. In other words, the amount of protein that a person should take daily at 60 pounds is equal to 48 grams of protein. But Cheerios don't meet that requirement. However, alternatively, you can balance the amount by adding a source of protein next to the Cheerios. For instance, consuming Cheerios with foods such as yogurt and nuts balances this deficit. To sum up, even though the original Cheerios is not adequate, it is a healthier choice than Honey Nut Cheerios.
Does Honey Nut Cheerios Have Too Much Sugar?
As part of a healthy diet, people prefer breakfast cereals with a high content of cereal for breakfast so that people think that they are going to get the necessary nutrients, eat healthily and lose weight. Regular raw oats include 66% carbohydrates, 15% fiber, 7% fat and, 1.5% sugar. But these oats are having some processes while turning into breakfast cereals. The content of processed oats changes, and thus their nutritional value changes significantly, as well. But as a matter of fact that not every breakfast cereal is as innocent as it looks. Some products contain a lot of sugar. Honey Nut Cheerios is one of them. Excessive sugar consumption increases the risk of bad diseases such as heart disease, cancer and, diabetes and also causes rapid and unhealthy weight gain as a result of excessive consumption.
According to the Cheerios website, 4 types of additional sweeteners were placed in Honey Nut Cheerios. These are normal and brown sugar, honey and, syrup. The American Heart Association recommends that children should not eat up more than 25 grams of sugar in total per day. A serving of Honey-Nut Cheerios has 9 grams of sugar. That's more than one-third of the daily recommended amount. In other words, children consume too much sugar in just one meal. Now let's analyze the recommended breakfast nutrition and Honey Nut Cheerios nutrition facts:
RECOMMENDED BREAKFAST NUTRITION          HONEY NUT CHEERIOS NUTRITION
Sugar:                                           < 8 gr                                                                            9 gr
Fiber:                                              8.3 gr                                                                           2 gr
Fat:                                                 15 gr                                                                           15 gr 
Carbohydrate:                             15 gr                                                                            22 gr
Nutritionist Amy Shapiro suggests that breakfast cereals, in general, should not comprise more than 8 grams of sugar. According to this table, Honey Nut Cheerios involve more sugar and carbohydrates than the recommended amount of sugar and carbohydrates. Furthermore, Honey Nut Cheerios includes less fiber than it must be. This table shows us that this Cheerios flavor has a small number of healthy foods, while it should have had more healthy nutrition within it. But on the contrary Honey Nut Cheerios has a large proportion of unhealthy nourishments that should not be within it. Honey Nut Cheerios changed portion size in 2011. While formerly one serving was equal to one cup, now one serving is equal to three-quarters of a cup. This means that Honey Nut Cheerios, which used to have 12 grams of sugar, now has 9 grams of sugar. For this reason, if you want, either you can choose the original Cheerios instead of Honey Nut Cheerios or instead of Honey Nut Cheerios for breakfast in the morning, you can eat a bowl of oats filled with fruit and peanut butter to the side and make your healthy breakfast at home.
---
---
What Are The Healthiest Cereals You Can Eat?
Cereals, fast and easy to make, are the most popular breakfast food. It is a type of breakfast that people who particularly have busy lives refer to very often. We looked at the Cheerios varieties above and found out that the original Cheerios were more useful than sugary varieties such as Honey Nut Cheerios. Well, have you ever wondered what are the healthiest cereals you can eat? Here are 5 recommendations which you can do at home;
What Are The Healthiest Cereals You Can Eat? #1 Muesli (Do It Yourself)
Muesli, which you can easily make yourself at home, is a healthy and delicious type of breakfast.  This grain, which usually consists of seeds, nuts, and dried fruits, is very rich in fiber, vitamins, and minerals. It is separated from granola in terms of not containing additional oil, flavorings and eaten without being cooked. One serving contains 8 grams of protein if consumed with grains, nuts, and seeds. Also, if you do this with coconut flakes, nuts, and raisins, so without using cereals, you will reduce the carbohydrate rate.
---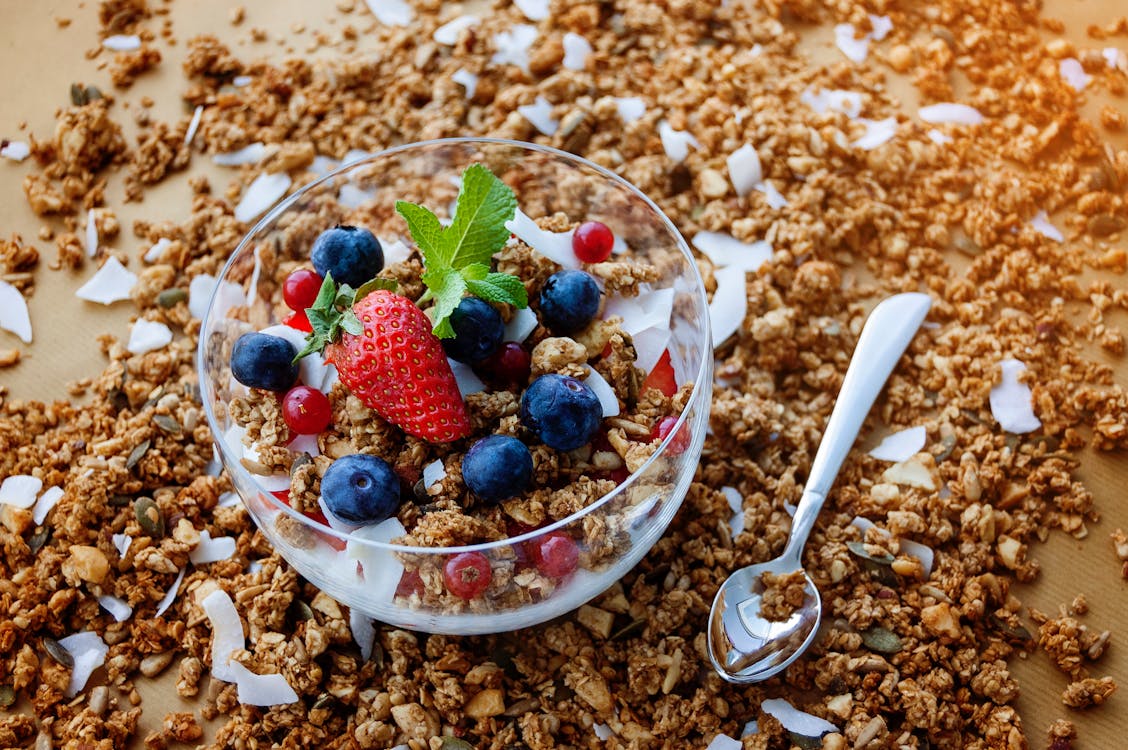 ---
What Are The Healthiest Cereals You Can Eat? #2 Homemade Granola
Granola consists of baking oats, nuts, and dried fruits in the oven until become crunchy. Granola is a food made from nuts and grains mixed with honey and other natural ingredients. Granola is rich in terms of protein, unsaturated fat, carbohydrates, and B-group vitamins. Moreover, it contains phosphorus, potassium, magnesium, calcium, and iron. 122 grams of granola, which is quite calorific, is approximately close to 600 calories. For this reason, eating in measuredly will be the right choice. 80-85 grams consumed. Doing granola at home will be a healthier way to do since there is added sugar in those bought at the grocery store.
---
---
What Are The Healthiest Cereals You Can Eat? #3 Peanut Butter Puffs Cereal
First of all, the dough is prepared from substances such as peanut butter, almond flour, cocoa powder, coconut oil. Then made into small balls and baked in the oven. Due to we use almond flour instead of wheat flour, the number of carbohydrates taken into the body decreases. Because 1 cup of almond flour includes 6 grams, and wheat flour contains 20 grams of carbohydrates. Like others, doing Peanut Butter Puffs Cereal at home is healthier than buying it at the grocery store. Because the grocery store always contains additional added sugar. In addition to this, peanut butter is a good alternative way for eating breakfast, as it is a good source of protein, healthy fats, vitamins, and minerals. However, there is a point to remember that almond flour is very calorific. 160 calories per ounce. Eating in rates of 1/4 to 1/2 cup can be a suitable serving size.
---
---
What Are The Healthiest Cereals You Can Eat? #4 Flax Chia Cereal
Flax and chia seeds contain omega-3 fatty acids and protein. In addition to this, flax and chia seeds also allow you to get a significant amount of nutrients into your body, including magnesium, phosphorus, and manganese. How is this done? This is very simple. All it takes is to make dough. First, homogenize the seeds and coconut oil, and cinnamon, and prepare the dough. Then cut the dough into a square shape and bake. That's all. Enjoy your meal.
What Are The Healthiest Cereals You Can Eat? #5 Cauliflower "Oatmeal"
Despite it sounds a little strange, cauliflower has many significant nutrients, as well as adequate amounts of fiber and antioxidants. In addition, cauliflower oatmeal has 11 times fewer carbohydrates than normal oatmeal. Making these healthy oats is quite simple. You can combine chopped cauliflower with eggs. Or you can boil cauliflower rice in a saucepan with unsweetened milk, cinnamon, and, in addition, linseed.
---
---
Summarize
Cheerios, which have many varieties, in itself their nutritional values vary according to their flavors. Honey Nut Cheerios are marketed as beneficial for heart health. But the fact shows that Honey Nut Cheerios has a lot of sugar indicates that means Honey-Nut Cheerios are unhealthy. 12g in one serving, that is, there is approximately 24% sugar in one package. So much sugar consumption is not beneficial for our heart and body health. However, if it is preferred, it is more accurate to prefer the original Cheerios. Since it has less sugar than others. But despite all these, classic Cheerios don't carry the nourishment resources we need to get. Therefore, adding protein-weighted foods to the side of Cheerios might meet the number of nutrients we will get in a meal. Also for people who do not eat packaged food, there are quite a variety of methods. They could make a healthier decision by making their oats at home.
Some Cheerios Types That You Can Buy Online
---
---
---
---
---
---
---
---
---
---